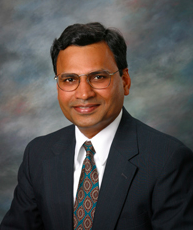 Chaurasia, Om, M.D., FACG, FASGE, AGAF
Specialty:
Gastroenterology
Address:
26421 Crown Valley Parkway Ste 140A-B,
Mission Viejo,CA 92691
Dr. Chaurasia has been in the field of gastroenterology for more than twenty-five years and is a recipient of several professional awards including "Physician of Excellence" award by the Orange County Medical Association, California on multiple occasions. He has served as the President of the Orange County Gastroenterology Society, as a committee member of the American College of Gastroenterology, and on the clinical faculty as Assistant Clinical Professor at the University of California, Irvine, and is currently the medical director of Pacific Gastroenterology Endoscopy Center.
In addition to general gastroenterololgy including colon cancer screening, he has a particular interest and expertise in the Endoscopic Retrogrde Cholangio-Pancretography (ERCP) and in the field of pancreatobiliary diseases.
Dr. Chaurasia received his medical degree from the Prince of Wales Medical College, Patna, India, followed by internal medicine training in England, UK.
He completed his residency training in internal medicine at the University Medical Center, East Carolina University, Greenville, North Carolina. In addition, he served there as the chief medical resident. He did 3-year fellowship training in gastroenterology and hepatology at the University of California, Irvine. At the University of Amsterdam, Holland, an internationally renowned center for pancreatobiliary endoscopy, he completed advanced training in therapeutic ERCP.
His board certification includes American subspecialty board of gastroenterology which he passed with the highest decile of ten. He has received several awards including the Glaxo Fellow's award at the national meeting of the American Gastroenterological Association.
In peer-reviewed journals, he has authored several original articles and abstracts. He has given presentations at various professional society meetings at the state, national and international levels.
He is the past President of the UC Irvine Gastroenterology Alumni Association and the Indian Medical Association of Southern California.