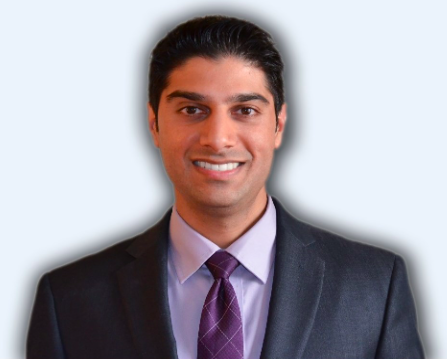 Specialty:
Gastroenterology
Address:
24221 Calle De La Louisa Ste 300,
Laguna Hills, CA 92653
Education:
University of California, Los Angeles, Cum Laude Honors. Bachelor's degree in Biology with specialization in Computing, 2003
University of Southern California Keck School of Medicine, Dean's Recognition. Doctor of Medicine, 2008
University of Southern California Marshall School of Business. Master of Business Administration, 2008
Postgraduate Training:
Duke University Medical Center. Combined residency in Internal Medicine and Pediatrics, 2012.
UC Irvine Medical Center. Fellowship in Gastroenterology and Hepatology, 2015.
Board Certifications:
American Board of Pediatrics, 2012.
American Board of Internal Medicine, 2013.
Ketan Shah, MD, MBA, is a fellowship-trained Gastroenterologist and is Board Certified in Internal Medicine and Pediatrics. He has expertise in treating the entire spectrum of gastrointestinal conditions, including diagnostic and advanced endoscopy and colonoscopy, gastroesophageal reflux disease, eosinophilic esophagitis, H. pylori, gastritis, motility disorders, liver disease, pancreatic and bile duct conditions, celiac disease, irritable bowel syndrome, inflammatory bowel disease, and colon cancer screening and prevention.
Dr. Shah completed his undergraduate degree in Biology with a specialization in Computing at UCLA, where he graduated with Honors. He earned his Medical Degree from USC's Keck School of Medicine with Dean's Recognition and was elected to the Alpha Omega Alpha Honor Medical Society. While at USC, he concurrently obtained his Master's in Business Administration and was elected to the Beta Gamma Sigma Honor Society. Dr. Shah continued his training at Duke University, where he completed a dual residency in both Internal Medicine and Pediatrics and represented 1000+ trainees on the hospital's Executive Committee of the Medical Staff. Finally, he completed his Fellowship in Gastroenterology from UC Irvine, where he trained under world-renowned specialists.
Dr. Shah has been recognized with several national awards and achievements. He was the winner of the American College of Gastroenterology "GI Jeopardy" National Championship and also received the Fellowship2Leadership Award and the UC Irvine Excellence in Research Award. Additionally, Dr. Shah was selected to present his research at the North American Conference of Gastroenterology Fellows. He has also published studies in peer-reviewed medical journals and spoken at national conferences. Dr. Shah's extensive and unique training, skills, and accomplishments make him among the top young gastroenterologists in the nation.
Dr. Shah is highly experienced in colon cancer screening and prevention. He is especially interested in high quality colonoscopy and maintains an extremely high adenoma (polyp) detection rate (somewhat like a "batting average" for colonoscopists) of over 50%, compared with a national average of 20%. Recent studies have demonstrated that patients of colonoscopists with higher detection rates have a lower risk of developing colon cancer, advanced-stage colon cancer, or dying from colon cancer. Dr. Shah also employs numerous innovative colonoscopy techniques, such as underwater colonoscopy and underwater polyp removal to achieve higher patient comfort and success rates. He is also very experienced at performing unsedated colonoscopies, allowing select patients to comfortably observe their own exam, avoid the risks of sedation, and drive and return to work after their colonoscopy.
Having trained under some of the world experts at UC Irvine, he has extensive experience in advanced endoscopy and colonoscopy techniques, including removal of large colon polyps, ERCP, stent placement, dilation, and removal of precancerous and early cancerous lesions from the gastrointestinal tract. He is also skilled in performing procedures for the diagnosis and treatment of gastroesophageal reflux disease and its complications, including Barrett's esophagus and esophageal cancer, and motility procedures such as pH studies and esophageal and anorectal manometry.
Dr. Shah's double board certification, along with additional training in pediatric gastroenterology, including pediatric endoscopy and inflammatory bowel disease, has led to an additional interest in transitioning the care of pediatric GI patients to an adult gastroenterologist. His research studies led to the discovery of multiple childhood risk factors that increase the chance of developing adult-onset gastrointestinal illnesses. Dr. Shah's research team was the first in the world to establish a direct link between pediatric gastroesophageal reflux disease and Barrett's esophagus and esophageal cancer.
In addition to his clinical passions, Dr. Shah incorporates technology to allow patients to actively participate in their care, including the use of secure online portals, mobile apps, and mobile healthcare devices.
Dr. Shah is an outstanding physician with extensive clinical expertise along with utmost warmth and compassion for his patients. He is fluent in Spanish and proficient in Gujarati and Hindi.
He lives with his family in Orange County and is an accomplished violinist who also enjoys photography, technology, and skiing.